Kudos to Big Two Toyota of Chandler
Posted by Russell Diehl on Tuesday, September 24, 2019 at 12:10 PM
By Russell Diehl / September 24, 2019
Comment

Last updated - September 24, 2019
Kudos to Big Two Toyota of Chandler
an Exceptional Car Buying and Customer Service Story
So what's a blog about car buying doing on a real estate website?
In three words ... "Exceptional Customer Care!"
One of our three core company values at Arizona Network Realty is to provide "Exceptional Customer Care and Service" to our valued clients and customers. We take pride in delivering exceptional home buying and selling services, and so when my wife and I experienced this same, rare level of "exceptional customer care" we wanted to share our experience with our worldwide audience and give a well deserved "kudos" to Big Two Toyota of Chandler.
With profound appreciation we would like to express our sincerest gratitude to the sales and service team at Big Two Toyota, located in Chandler at 1250 S Gilbert Rd.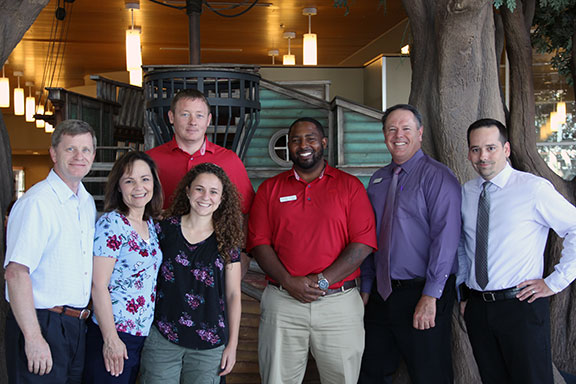 Our Story
Recently, my wife and I were on the hunt to find a good used car for our daughter who is moving back to Arizona to start her new career in Speech Language Pathology.
As we began searching the used car lot for the "right" vehicle we were greeted by Pierre Evans, who is a newer Sales associate at Big Two Toyota. Though Pierre is large in stature we were immediately at ease with his kind, genuine, and engaging personality. Pierre answered our questions clearly and in a professional manner. When we had questions in which he needed more information to answer, he didn't try to "snowball" us but rather let us know he would find out and get back to us.
We Found It!
In one of those "I can't believe we found it" moments we found our new used car almost immediately. There it was, a Sky Blue 2008 Toyota Highlander that had just been traded-in, serviced, and released to the used car lot. It was perfect. Great color, nearly new tires, leather interior with no blemishes, mint condition, and low, low miles. After a quick drive and a pleasant experience negotiating our price, we secured our daughter's new-used Highlander.
Unsettling Sound
As I drove the Highlander home I heard an unsettling sound coming from the front passenger wheel-well area. I had mentioned this sound previously to Pierre during our initial test-drive but we both thought perhaps the sound was coming from the dealer-plate flapping on the back window as sound does have an uncanny, ventriloquist-like way of projecting itself to other parts of the car.
Exceptional Customer Care
Well, I immediately knew there was a mechanical issue. When I returned the following day to discuss the matter with Pierre, he listened intently to my concerns and then sought out Michael Burrell, one of the Sales Managers, to help me. Mike took charge and immediately procured one of the mechanics to test drive the vehicle with me … and as it always seems to happen, during our test-drive we unable to reproduce the sound. Bummer!
So I drove home without any resolution and of course, still concerned. Finally, after much driving around near home base I was able to reproduce the sound with regularity. This time, when I returned the following day, Mike introduced me to Jason Briggs, the Service Director for Big Two Toyota.
SUPER to the Rescue
In a word Jason is "amazing" … he's one of those I'd categorize as a "Super." His customer service skills are exceptional, bar-none! Jason took real interest in my concerns and was personally committed in resolving the matter with integrity. After multiple test-drives together, along with the head mechanic, we were able to identify the location of the sound … the culprit for the noise, a broken right-front strut mount. Without hesitation Jason scheduled our Highlander for servicing and we were able to pick up our vehicle the next business day.
Our Gratitude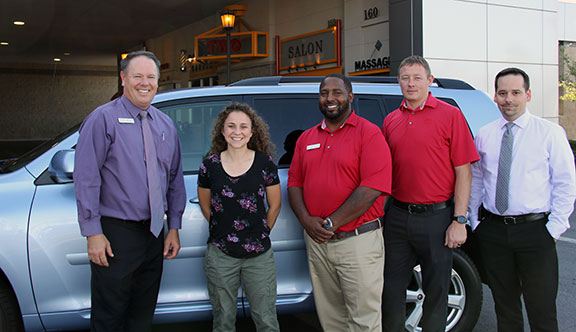 In summary my wife and I couldn't be more pleased with the sales and service team at Big Two Toyota. We enthusiastically and whole-heartedly recommend Big Two Toyota to everyone who is looking for cars with great value AND a dedicated, exceptional customer sales and service team ... at Big Two Toyota they got "your back."
With much gratitude and appreciation to all our friends at Big Two Toyota,

Russell and Marianne D.
Celebrating with the classical "Toyota Jump"